Get your 60s glam on 'Mad Men' style!  The Grade 7 Quebec Trip Fundraising Committee is pleased to invite you to a "MAD MEN SOIRÉE" on Saturday April 28th, 7 – 11 pm, at the Gleneagles Golf Clubhouse.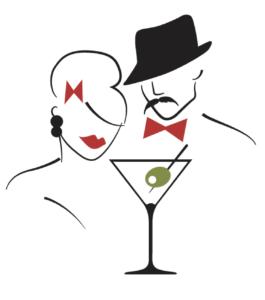 Meet new parents, see old friends and mingle outside of the "kid zone". It's the one night that everyone gets out! You'd be MAD to miss it!
Money raised from this event will be primarily directed to helping fund the annual Quebec trip, PJ's most exciting "Rite of Passage" for its graduating Grade 7 students. A generous percentage of the funds ($10,000) will go to the PJPAC to directly benefit school and its students for this year and next.
Come support your PJ community! Besides being a great night out, the Soiree is a great fundraiser that supports our school and benefits our kids!
Tickets: Early Bird price of $100 in effect now for a limited time. This Glam night out will feature:
– One 'Mad Men' drink included in ticket price
– "Mad Men" style sexy cocktails, appies and canapés
– Live music plus DJ so you can dance the night away!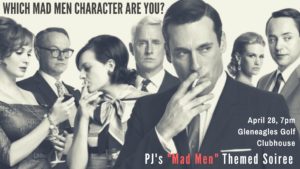 To inspire your fashion choice for the evening, take this quiz –
Purchase tickets one of two ways:
a) etransfer to ecolepjsoiree@gmail.com
b) by credit card ($5 surcharge) on the Fun Lunch ordering website
Click on 'Orders' tab, select 'student orders'
Click on the 'Soiree ticket' button
Select # of tickets, "place order and proceed" button to pay